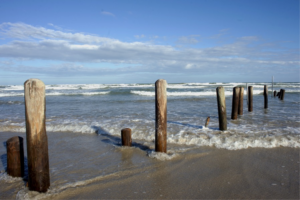 La Porte, TX is embarking on a new Twitter campaign to encourage residents to share what they love most about their wonderful city. To see how it's going, look for participants using #LoveLP. La Porte offers many treasures worth sharing on social media, here are a few reasons to truly love this charming city. If you're convinced enough to make the move, our team Total Storage Solutions is here to make the process run as smoothly as possible with the help of our self storage units.
The 5 Reasons You Should Love La Porte
The beautiful, soft sand and gentle waves of Sylvan Beach can wash all of your cares away. Take a long stroll, or visit the state's longest fishing pier — it measures 1,100 feet over the water.
If your idea of paradise involves great shopping, La Porte has everything you'll need. Visit historic Main Street to find everything from small family-owned boutiques to antique dealers. Head across town to shop prestigious name brands, big-box retailers and everything in-between.
Finding spiritual nourishment in La Porte is easy. The beautiful, historic La Porte Community Church just celebrated its 90th anniversary. Learn about the church's amazing, diverse history and share in its celebration of faith and tradition. Membership is open to all Christian denominations.
The Battleship Texas State Historic Site offers guided tours of the USS Texas. When the U.S. Navy commissioned the ship in 1914, she was one of the most prestigious and powerful ever built. She now stands to honor our service men and women and allows us a glorious glimpse into the past. Walk aboard a ship that survived two world wars and lived to tell her story.
The Bay Forest Golf Course winds through a lovely bay-side environment filled with stately trees and gentle waterways fed by the bayou. It is not only beautiful but also considered one of the top 20 municipal golf courses in Texas. The Bay Forest Golf Course is perfect for everyone from casual golfers to championship players, and its beauty and challenges are offered at affordable rates.
Find the Best La Porte, TX, Storage Lockers and Self Storage Units
La Porte welcomes visitors with open arms. Once you've experienced the enchanting city, you may decide to stay permanently. If you need a place to store your belongings while you choose a home, Total Storage Solutions can help. Contact us today to learn more about affordable storage options that meet your needs.