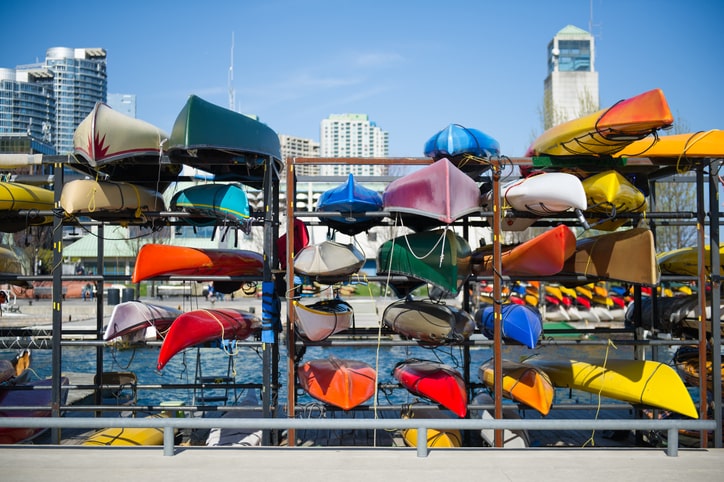 When the heat of summer gets replaced with cool fall nights, it may be time to start packing up your favorite summer hobbies for the year. Whether it's your favorite pool toys, outdoor adventure gear, or your boat or RV, it's important to make sure each item is cleaned and stored properly to ensure its readiness for the next season.
From how to clean your kayak when summer ends to where to find self storage for your canoe, we're here to help you stow away your summer equipment during the cooler months to come. With Total Storage Solutions you can find the space you need to store summer recreational gear Read on for helpful tips on storing whatever summer goods you need.
Our Tips for Storing Summer Gear
Some of your favorite summer activities likely take up a lot of room, which is why storage space is so important for all that recreational gear. Here are just a few of the most popular summer items that make it into storage and a few pointers on how you can store them properly during the offseason.
How to Store Kayaks and Canoes
Kayaks and canoes can really bring your summer to life, allowing you to enjoy water activities in a whole new way. However, the fun can quickly fade when the summer ends and you're faced with the dilemma of stowing your gear. Protect your investments by storing them properly during the offseason.
A few things to keep in mind when it comes to canoe and kayak storage are:
How to Winterize Your Boat
During the winter months, it is essential to properly store and "winterize" your boat. Proper boat storage preparations can make the difference between a working boat and a damaged boat. Before you stow your boat for the off-season, take the following steps:
Looking for additional tips to winterize and store your boat with care? Take a look at our tips to prep your boat for storage for more in-depth details.
Tips for Storing Pool Toys and Beach Gear
If you're a pool owner or frequent beachgoer, you probably have plenty of equipment for your summer excursions. It doesn't take long for pool toys to start piling up, from beach chairs and umbrellas to jumbo-sized floaties.
Be sure to clean and dry inflatables thoroughly, then deflate them and fold them up carefully. Avoid exposing pool floats to extreme cold—which can cause cracking—and dry them completely to avoid molding.
Ways to Store Fishing Gear
Fishing is an excellent way to spend time outdoors in the summer. But when temperatures begin to drop, it's essential to properly stow away your expensive fishing rods so you can use them again next season.  When it comes to fishing storage, we recommend that you:
RV Storage Tips
When your next roadtrip ends and it's time to pack up the RV, it's crucial to take the proper steps before placing it in storage. With the right preparation and storage methods, your RV will be ready for your next road trip as soon as you need it. Here are our RV storage tips:
Rent Seasonal Storage or RV and Boat Storage With Total Storage Solutions
While our tips will help you properly stash your summer gear, finding the right place to store it all can be difficult. Our Total Storage Solutions locations offer storage units for camping and beach gear along with RV, boat, and vehicle storage options. With month-to-month leasing, we can keep your summer gear safe for a few months so you can pick it up again when the first blooms of spring emerge.
You'll find our premier self storage facilities across the U.S., including:
Get started by finding a storage location for near you and rent or reserve a unit online today! For more information, check out our FAQ and explore our storage and packing tips to make the most out of your storage.