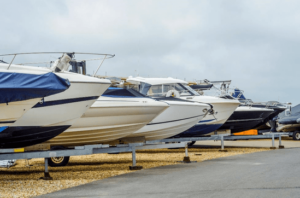 As boating season comes to an end in Houston, TX, it's time to start thinking about where you should store your boat until the next spring. If you don't have space at home for your boat, you might want to consider an alternative spot like a nearby self storage facility. Total Storage Solutions has a few ideas on where you can keep your boat during the offseason so it's ready to go when the temperatures rise back up.
3 Places to Store Your Boat
Park it in your garage.
If you have room in your garage and it's a small boat, it's always nice to keep it parked at home. It'll stay protected in the garage, and you can work on it whenever you want. If your garage is full of clutter, moving it to a nearby storage unit will clear space for your boat.
Keep it in your backyard.
A big backyard is a great place to store your boat for the winter. Just make sure to cover it with a tarp or a specially designed boat liner to protect it from the weather as it sits for months. Not everyone has a big backyard or wants to rearrange outdoor furniture or a shed to make room for a boat. If that's the case, self storage may be your best bet.
Store it in an off-site storage unit.
Storage units aren't just for small household items. You can also use them to store small-, medium- and large-sized boats. Keeping your boat in a storage unit not only protects it from the weather but also keeps it nearby for easy retrieval. Because storage facilities have video surveillance and take other security measures, you can rest easy storing your boat offsite.
Self Storage Makes the Perfect Spot for Your Boat
Even if you have space at home for your boat, sometimes it's best to keep it in self storage where you'll know it'll be ready the next time you need it. Total Storage Solutions has storage units in Houston, TX to keep your boat secured away from home, with security features and climate control to give you peace of mind while it's stored for the winter.