Whether you're making a journey to a new home, conducting renovations on your current household, or are simply trying to give yourself a little more elbow room, you've found yourself in need of a storage unit. We're committed to providing a great experience regardless if you are a storage expert or a first-time renter.
Total Storage Solutions has been in the business for a long time, and we promise there's nothing more important than mastering the fundamentals. In this blog, our mission is to alleviate any uncertainties or concerns you have around moving your belongings into a storage unit. We'll provide storage unit organization tips, packing tips, and essential information you need to make your first storage experience a resounding success.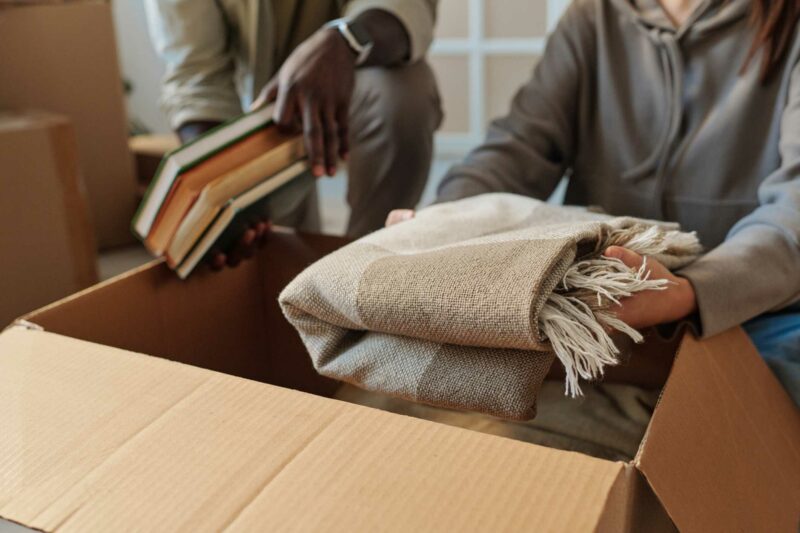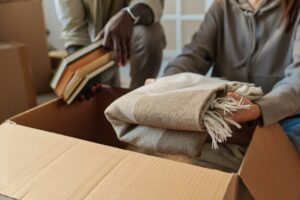 Packing Tips for Storage Unit Transportation
Before you ever reach the storage unit, you need to make sure your belongings arrive there in one piece. For that reason, we think it's valuable to dedicate some time to storage unit tips, specifically during the transportation process.
Minimize Item Shift
Whether it's in your personal vehicle or a moving truck, it's inevitable that your belongings will shift en route if you don't take the time to properly secure each of them.
We suggest utilizing packing tape and peanuts to prevent sliding and shifting with each turn of the vehicle. Packing tape can prevent doors and shelves from opening when they shouldn't, and peanuts are perfect for providing some cushion when items need to be stored in the same box or bin. If you don't have any packing peanuts, an alternate option is to pack fragile items alongside clothing or blankets, so nothing takes too much damage. This is especially important when placing things close together that could harm one another, like how appliances can scrape together or Christmas ornaments could develop scratches or cracks.
Lift Smarter, Not Harder
If you need to move something heavy or bulky, do everything possible to avoid lifting those things with your own strength. Lean on the benefits of devices specifically made to ease the strain of these activities. Dollies, hand trucks, and moving straps are essential for moving heavy objects around without hurting yourself—and we provide some of these items free of use at many of our storage facilities.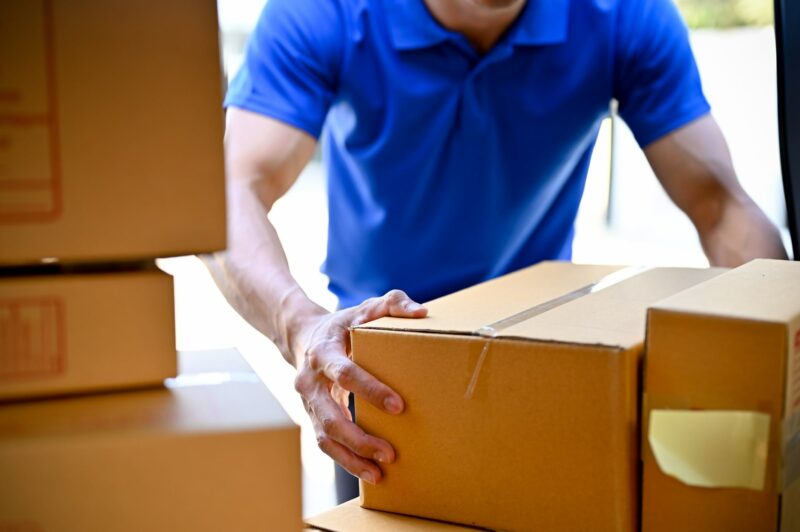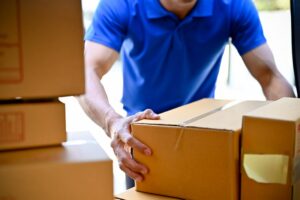 Storage Unit Organization Tips
Once you're here at the storage unit, what's the best way to use all this space? Let's run through the options.
Ease of access
Our first organizational storage unit tip is to arrange items strategically for easy access and retrieval. If you expect a large or packed storage unit, prioritize putting items further back that you aren't going to need for a while. If it's something you think you'll need more often, such as a lawn mower in the summer, keep it up front. This way you don't need to go rifling through all your belongings every time you need to use it.
Vertical space
Obviously you have floor space, but don't neglect upwards space. You can either create vertical space by bringing additional shelving options with you, or you can stack different items on top of one another. If the latter, make sure you place heavier items on bottom and increasingly lighter items on top, otherwise you risk letting their combined weight crush things underneath, damaging or eliminating their longevity.
Use negative space
For our next storage tip: fill whatever empty space you can find with other belongings. The obvious options are the most simple: clothes inside dresser shelves, instruments in cases, etc. But you can also think outside the box and utilize the space inside appliances like microwaves, refrigerators, and other such things. Every inch of space counts!
Use plastic bins
Plastic bins are generally more durable than boxes, but also, they offer more organizational options. Different colored bins can be relegated to certain types of items, or belongings for different rooms in a home. Alternatively, you can use see-through bins so that you can tell what's inside each container at a glance
Protect everything
Depending on what you're storing, the exact storage tool you need to secure your belongings will change. Use wardrobe boxes for clothing to minimize wrinkles, mattress and furniture covers to prevent damage, and packing peanuts to keep sensitive items from banging into or resting atop one another during storage.
Even with this list of storage unit tips, we couldn't cover everything. Make sure to take inventory of exactly what you'll be storing, and consider the best way to store each item based on what you have available. Everyone's circumstances are different, but with a plan, you can make nearly anything work in your favor.
Lean on Your Own Total Storage Support
Total Storage Solutions believes everyone should feel safe, comfortable, and excited by self storage—after all, it can be a game-changer.
If you're still nervous or uncertain about anything, we encourage you to reach out to us with your questions. We love every opportunity to give people support in times of transition and need, and we're more than ready to be that solution for you, too.
We have a free truck rental option available as well, for the consideration of those with major moving needs. It's easy to rent: find a storage unit near you today.