As the flowers bloom and the air begins to hit that perfect temperature, it's time to take off the mittens and replace them with rubber gloves for spring cleaning. This seasonal tradition allows you to take advantage of the comfortable weather to clear out the clutter and make your home ready for the year ahead.
You only have so much space in your house and the process of tidying up and reorganizing can seem daunting at first glance. These tips from Total Storage Solutions will help you learn to tackle your spring cleaning one piece at a time and utilize self storage to keep your home neat and livable.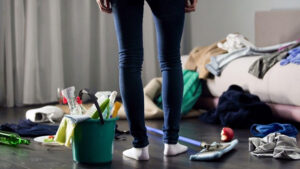 Preparing For The Task Ahead: Your Spring Cleaning Checklist
A simple but reliable plan will be your best friend as you work your way through cleaning your home. Follow this pre-cleaning checklist to make sure you have all the helpful rules and tools to be prepared for the steps ahead. Items that should be included on your spring cleaning checklist are:
Restock cleaning supplies
Make a schedule
Identify and Reduce clutter
Have a space ready for storage

Restock Cleaning Supplies
Make sure your cleaning supplies are up to snuff. Focus on the equipment you'll need for washing, wiping, and sweeping such as brooms, glass cleaner, disinfectant, and PLENTY of rags.
Have trash bags, laundry baskets, and cardboard boxes at the ready for removing junk and reorganizing as you clean. Don't forget to wash all your sheets and linens, even if they don't see much use.
You'll want to dress for the job, so put on rubber or latex gloves and clothes you are not afraid to get dirty. Long pants can be helpful if you are going to be crawling around. Don't forget a headlamp or flashlight for scoping out those dust-loving gaps and corners.
Make a Schedule
Don't eat the whole elephant all at once. The best way to go about your spring cleaning is to set aside more than one day to get it done. Create a schedule with achievable goals that will allow you to make progress without packing all the work into a single afternoon. Some people may prefer to get everything done in one sitting, but you may find yourself feeling rushed and burnt out before the job is finished.
Identify and Reduce Clutter
Before you start the dirty work, take time to remove clutter from around the house. This will help you by creating more room to move around while you work and it will also allow you to begin assessing what items you want to throw out or put away in storage.
Clutter can come in a wide-range of forms. Unfinished projects may leave tools and supplies lying about. Work documents can pile up throughout the year. Laundry can build up in piles and bulky winter clothes can take up space in your closet. Identify areas where unneeded items are taking up space and consider finding a more suitable location for them.
Have a Space Ready for Storage
As a rule of thumb, everything needs a home. Some items, particularly winter supplies like shovels, coats, and hats, should migrate from the common areas in your home to storage as the season begins to change. While your basement or attic may be a good place to tuck them away, a self storage unit will allow you to take your larger items out of your home and open up valuable space. From snowblowers to your winter wardrobe, find a new home for your winter belongings as you bring in the spring.
Total Storage Solutions provides units of all sizes that can accommodate everything from simple boxes to the largest appliances. Our temperature-controlled units can help keep the harsh winter weather out while your items are warm and dry in our secure facilities. Find a location near you and see the many options and amenities we have to offer.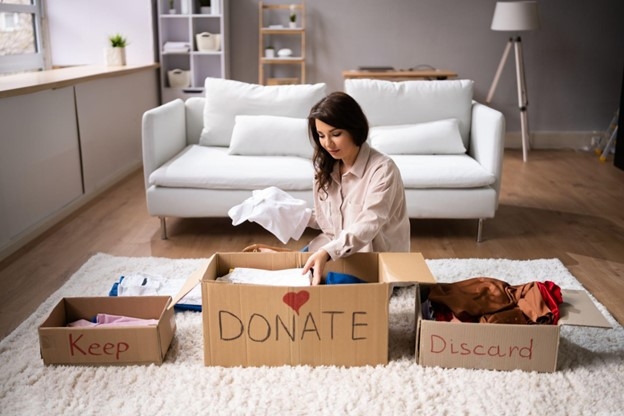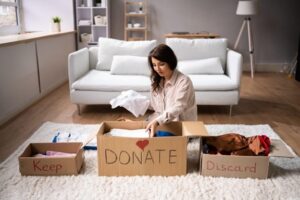 Three Steps to Make Spring Easier and More Efficient

It can seem overwhelming once you get down to it and start cleaning. Bring some order to the process of spring cleaning and reorganization by following these three easy steps to make sure you cover all your bases:
Go Room by Room
Don't Forget the Outside
Three Boxes: Toss It, Donate It, Store It
Go Room by Room
Whether you are working with the whole family or tackling it all by yourself, remember that having a plan is the best way to stay on track. Go room by room as you work your way through your house, making sure that each one is fully decluttered, cleaned, and organized before you move on to the next. Each location will have its own needs, but start by cleaning the higher surfaces and work your way down so any dust or debris will fall below and be picked up as you go.
Don't Forget the Outside!
Take advantage of the comfortable weather and give all your exterior furnishings and appliances a scrub. Running out of room for your seasonal furniture? We recommend keeping your deck chairs, tables, swimming pools, and all your other warm-weather equipment dry and off-site in a self storage unit near you when it is not in use.
Three Boxes: Toss It, Donate It, Store It
Go through every room and storage space with three boxes to help you sort through the items that need to be relocated. This strategy will allow you to see exactly how much stuff can accumulate over the year and help you determine what should be kept and what should be let go. These boxes will be particularly useful when working in your garage, closset, and other places where items tend to build up over time.
For anything you choose to keep, have a dedicated space in mind so you can maintain all the new space you have just cleared away. This handy size guide will help you visualize the types of off-site storage that can get the job done, big or small.
Keeping it Clean With Self Storage From Total Storage Solutions
Spring cleaning may not be everyone's favorite activity, but there are things you can do throughout the year to make it easier the next time it comes around. Create a routine of cleaning every week and identify the areas that will need the most attention. Find appropriate places for clutter storage to avoid build-up of unwanted and unused belongings. Assess which items you need to be kept in your home and choose a dedicated place for those that don't.
Finding extra space is easier than ever when you rent a self storage unit from Total Storage Solutions. Our climate-controlled options in units large and small will help protect the items you care most about. With a wide range of sizes to choose from, you can find the one that is best fit for you and everything you need stored, at a price you can afford.
Reserve your unit today! Find a facility through Total Storage Solutions this spring to take back space in your home and welcome the new season organized and with plenty of room to spare for the year ahead.