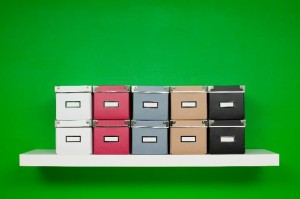 Finding places to store your belongings isn't always easy, especially when you live in a small apartment. You may find that you have more stuff than your square footage will allow. If you're forced to downsize while enjoying the big city lifestyle, you'll need to decide what you can't live without and what can be safely stored for future use. Here are a few storage tips to help you maximize your living space, so you can keep more of your valuable items at hand.
Storage Tips for Small Apartment Living
Most people don't fully utilize the vertical space available in the tops of closets. Use lightweight, stackable boxes or crates to store seldom used items on the top shelves.
Use multipurpose, convertible or stackable furniture. If you don't have room for two beds, place a sleeper sofa in your living room. Use large bean bags for extra seating; stack them in a corner when not in use.
Choose furniture that offers additional storage space. For example, many ottomans and tables have storage compartments.
Place wall shelves above your furniture to store collections or other display items.
Buy long, flat boxes for storing seasonal clothes under beds.
Use over-the-door organizers for grocery items, shoes or jewelry.
Organize Your Life to Optimize Your Space
De-clutter your apartment daily. Gather everything that's out of place, and put it where it belongs.
Use rows of small baskets placed on wall shelves to store small items that tend to end up everywhere. Examples include craft supplies, kids' toys and toiletries.
Use ice cube trays and pill boxes to organize office drawers.
To eliminate piles of paper, and create more room in filing cabinets, make digital copies of important documents, and place the originals in storage.
Keep Your "Someday" Belongings Safe in Self Storage
Eventually, you may relocate, so you don't want to part with extra furnishings you'll need later. Keep these, along with items you rarely use, in a safe, convenient self storage unit. You'll have access to your belongings any time you need them, but they won't be stealing your much-needed living space. For a small monthly fee, you can enjoy secure, climate controlled storage for your sports equipment, extra furniture, book collection, appliances and anything else you'll need when you move into a larger space. Check with your local storage facility for availability and rates.