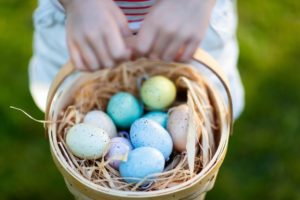 You don't have to wait until Easter to hunt for eggs in Riverside, CA. With the Spring Eggstravaganza on April 8, your kids can have the time of their lives searching for eggs, playing games and more at Ryan Bonaminio Park. This annual event is open to families in Riverside and the surrounding areas and provides fun and entertainment for kids of all ages. Total Storage Solutions is here to give you more information about this special event.
The Riverside Spring Eggstravaganza
The Spring Eggstravaganza takes place on Sunday, April 8, at 10 a.m. and lasts until 1 p.m. Families can gather at the park beforehand, or during the event and acquire wristbands for their children to participate in the "fun zone activities". Kids can jump in the inflatable bounce houses and go for train rides. There's also a petting zoo, game booths, and crafts. The free activities include special needs and age-divided egg hunts and photos with Peter Rabbit. All participants must bring a bag or a basket for the egg hunts. There will be a few separate hunts from 10 a.m. until noon, so don't worry about showing up late.
Easter Egg Decorating Ideas
In the spirit of egg hunts, you may want to get started dyeing your eggs early. This practice has gone on for centuries, and all you need to make wonderfully colorful eggs is some white vinegar and liquid food coloring. Just place the egg on a spoon, submerge it in a bowl filled with the mixture and let it sit. Then, remove the egg, and set it aside to dry. You can also get more creative with your Easter eggs with alternative decorating methods, such as:
Creating designs on them with paint pens
Painting different flowers on each egg using watercolors
Designing them with temporary tattoos
Making farm animals using cotton balls, construction paper, and pens
Outlining a silhouette cutout on the egg with a colorful marker
Use Self Storage for Easter Decluttering
If you have clutter in your home or yard and need it cleared up before an Easter egg hunt or family gathering, use our storage units to your advantage. We have modern, conveniently located facilities in Riverside, CA, so you can get started on Easter prep. You can keep everything from lawn ornaments to those boxes in the spare bedroom – your Easter will be organized, so you can focus on family.