Droughts have plagued the Lakewood, CA area over the past summer, but weather experts predict heavy rains this winter thanks to El Niño. In fact, forecasters expect devastating rains and a few floods in some places. Total Storage Solutions wants to keep you ahead of the weather with tips and advice for preparing your homes and storage units for possible flooding.
How to Get Your Home Ready for the Rain
Taking preventative measures helps to curb the damage that's caused by heavy rain and standing water. Before you end up with costly repair bills, get your home and yard ready for potential downpours that could last for days.
Clean your gutters. Clogged gutters overflow and cause flooding around your home's foundation. This flooding can lead to soil erosion and foundation damage over time.
Repair any and all roof leaks. Inspect your interior ceilings for water spots, and hire a professional to check your roof for lingering damage.
Move your belongings to higher areas. Garages sit at ground level, making them a target for flood waters. If you don't have extra room in your home, self storage provides more space and better protection from the rain.
Use an aerator on your lawn. Aeration will not only open up the soil for improved health but also help your lawn absorb the water even better.
Secure all of your patio furniture and lawn ornaments before the storms hit. Bring inside anything that could blow away in heavy wind or get damaged in a flood.
Tips for Surviving a Flood
The No. 1 tip from meteorologists is to stay home when heavy rains hit your area. Driving in torrential rainfall puts you in danger especially in a flash flood. If you find yourself in the midst of a flood, turn around if you can. If it's too late, don't exit your vehicle right away. Flood waters flow rapidly and can sweep you away, causing you to drown or to become severely injured from flowing debris. However, don't stay in your car until it sinks. Roll down your window, and get out as soon as you can. If you can't open the window, wait until the car fills with water, open the door and swim to safety.
How Self Storage Can Help During El Niño
When the rain comes down in Lakewood, CA, Total Storage Solutions has your belongings covered. We offer secure leasing plans to make sure your items stay safe during this year's El Niño. With insurance plans that provide up to $10,000 in coverage, you'll sleep easier knowing that your belongings are protected this rainy winter season.
You Also Might Like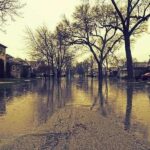 What You Need to Know About El Niño