During the COVID-19 pandemic, many of us are spending more time in our homes than ever before. If you're tired of staring at the same furniture and decor, you're probably thinking about refreshing your living space's look. For small apartment dwellers, however, redecorating can feel difficult in such small spaces.
If your apartment feels small and un-stylish, don't give up! At Allsize Storage, we know how much your living space can affect your mental and physical well being. Give yourself a mood boost and use these helpful tips to maximize space and style in your apartment.
Use Lighter Colors
If your lease agreement allows you to paint your apartment, go for it! Lighter wall colors trick your brain into thinking a room is larger than it actually is. While dark colors absorb sunlight, brighter colors are more reflective, which maximizes the natural light in your space. Some great colors that will make your living space feel bigger include:
Blue
Green
Yellow
White
Gray
Can't paint your apartment? No problem! Invest in adhesive hooks and hang light-colored tapestries and posters in dark-colored rooms to add some light. Incorporating bright, cheerful colors into your apartment can also improve your mood.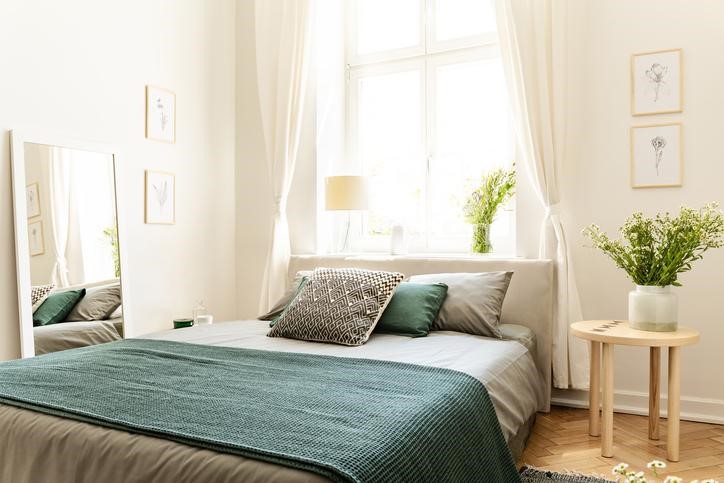 Place Mirrors Around Your Apartment
If you have a busy schedule, mirrors provide a quick solution for making your small apartment feel bigger. Find a space in your apartment that draws attention, such as a window or fireplace, and place your mirror there. Much like the lighter wall colors, mirrors reflect light, which brightens the room and creates an optical illusion of more space.
Get creative with mirrors in your apartment. Hang a full-length mirror on your bedroom door, place a small mirror on a glass tabletop, or even purchase lamps with mirror bases. Strategically placing a mirror can make all the difference in maximizing natural and artificial light in your living space.
Choose the Right Furniture
Even if you use light colors and mirrors to brighten your apartment, the wrong furniture can easily derail your space maximization efforts. Tall furniture can make the ceiling feel lower, darker colored furniture can absorb too much light, and bulky furniture can quickly take up precious space. Too much furniture can make your apartment feel cramped as well.
Whether you're buying furniture for your first apartment or swapping out your old couch for a new one, it's important to be prepared. When you're looking for furniture for your apartment, stick to slim, light-colored pieces that reflect light and take up less space.
If you're low on storage space in your apartment, look into multifunctional furniture with hidden storage, such as nesting tables, under-the-bed storage, or an ottoman. This can help keep clutter at bay without giving up your style.
Rent a Self Storage Unit
At the end of the day, you may have more belongings than any under-the-bed storage or ottoman can handle. When you have more stuff than space, look into renting a storage unit with Allsize Storage in San Clemente, CA.
Whether you need extra closet space or a unit capable of holding the contents of an entire room, we have the storage solution you need at an affordable price. Our month-by-month leasing is perfect for any budget, and we never require a deposit.
Maximize your apartment space with self storage and rent a unit from Allsize Self Storage today!