That's a wrap, folks! For better or for worse, the holidays are behind us, and it's time those seasonal decorations return to your personal storage. We know it's a bit heartbreaking that the time has already come, but there are bright new horizons ahead. You don't want to start by trying to preserve the past.
Total Storage Solutions is inviting you to walk with us through our step-by-step guide to seasonal décor storage. That way, we can all enter the New Year organized and ready to seize the day! We're here to give you tips on how to ensure your lights, bows, trees, and other decorative pieces are safe, secure, and ready to go next holiday season.
Take It All Down
Say goodbye to the lights, the wreaths, and the candles. The first step to storing seasonal decorations is to dedicate an afternoon or evening to taking it all down.
First thing's first: take down any outdoor decorations before they become damaged or lost due to weather conditions. Unhook any lights and unplug the inflatables. Ideally, you can find a time when it's nice outside to get this part of the job done.
Inside, you should also dismantle your tree or determine how you'll haul it to your nearest disposal site. Pull down all seasonal decorations from your mantle, countertops, walls, and everywhere else throughout your home.
Clean and Inspect Decorations
Once you have everything down, collect it all in an open, well-lit area of your home to visually inspect everything. Ensure that nothing is broken, cracked, dirty, or dismantled. Has an entire string of lights gone out? Trash them and make a note to buy more next year, or take advantage of post-holiday sales or clearance offers and purchase new ones.
Do what you can to clean and repair your decorations. It can be difficult to make things that spent a season outdoors look brand new again, but you can take steps to clean off any residual dirt, water, or grime, so each item can be optimally preserved and hopefully used for years to come.
Holiday Decoration Cleaning Tips
Outdoor inflatables can be cleaned with a damp cloth and a small amount of mild dishwashing soap if necessary. Repair any tears or holes by sticking a piece of clear packing tape over it. Ensure the whole inflatable is completely dry before you store it to prevent the growth of mold or mildew.
Use an old t-shirt, a microfiber cloth, or a feather duster to clean off any indoor decorations that might have collected dust while they were out on display.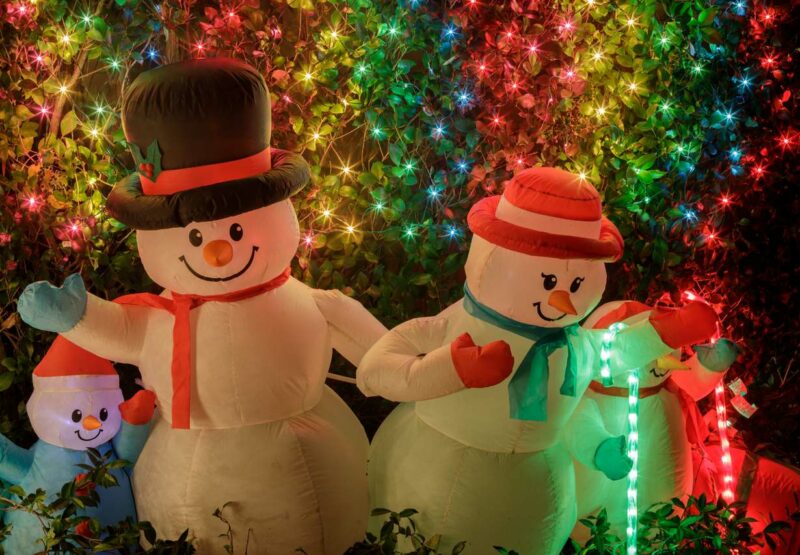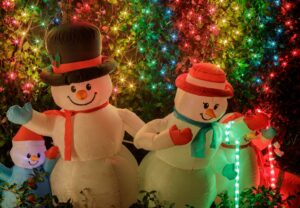 Group Items Together
Take some time to sort through all of your seasonal decorations and assess which items need special care. If any items are fragile, it's best to wrap them in bubble wrap or other protective packaging before storing them away.
Group similar items together such as garlands, stockings, and lights. This will make it easier to locate them again next year when it's time to decorate again.
Finally, choose a designated space for your seasonal décor storage where they can stay safe until next season arrives. Ideally this will be somewhere cool, dry, and if possible, off the ground. Lacking the ideal seasonal storage space for your holiday decorations? Consider renting a self storage unit near you!
Store Appropriately
Each group of decorations should have a container of their own so you don't accidentally smash fragile baubles like ornaments by stuffing them in with hard, heavy figurines. If you're using a storage bin or box, use one that's waterproof and durable enough for long-term use. This is especially true if you intend to stack containers, which should always be done with the largest, heaviest containers on the bottom. Lighter and smaller boxes should go on top.
If you're storing items such as Christmas lights or strings of garland, wind them neatly and securely so they don't become tangled during personal storage. This will save you a gigantic headache next winter.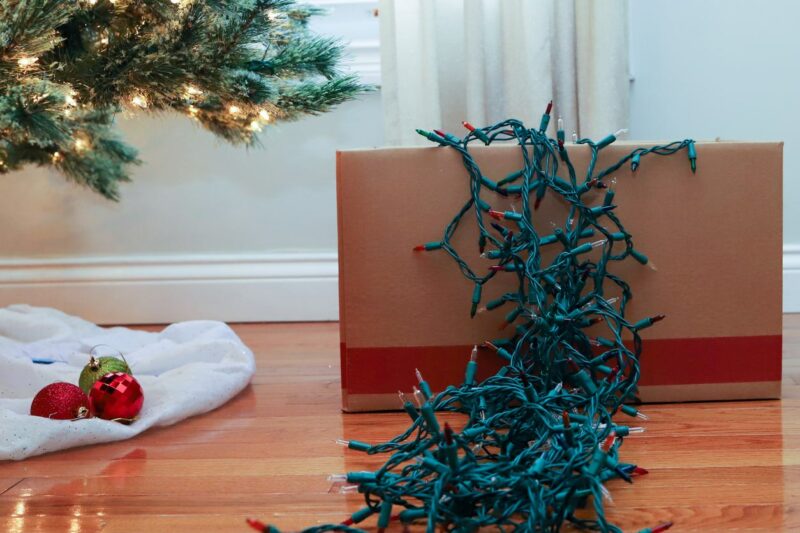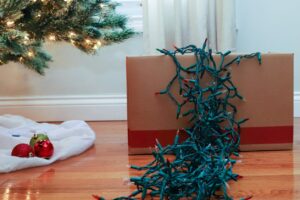 How To Store Holiday Lights
Find an old cardboard box and carefully cut it into rectangles using a box cutter. Carve a pair of notches into one side of each piece.
Take an individual string of lights and secure one end into one of the two notches. Wrap the lights around the piece of cardboard until you reach the end of the strand, then secure that other end into the other notch.
This will help you keep your lights detangled while they're in storage, making it that much easier to unravel them once the next holiday season rolls around. You can use this same method with garland, ribbon, or other long pieces of holiday décor that easily tangle.
Label Everything Clearly
Label containers in a way that indicates what items are inside. Brightly colored labels or labels that feature a picture of the item are one of our favorite seasonal décor storage ideas. For example, if you have a container full of lights, attaching a simple label with "lights" written on it will help ensure you don't have trouble finding them when it's time to bring out the holiday cheer.
As you label your containers, keep in mind how you'll be storing them. If you're stacking your boxes, consider labeling multiple sides as well as the lid. Make labels large, legible, and a color that shows up well against the container. You may need to write on a piece of printer paper or construction paper before securing it onto the box or container with tape. The main goal is to be able to look at the container from afar and not have to turn it around, lift other boxes, or open the lid to see what it contains.
Preserve Your Décor From the Roof to the Floor
Fortunately for all of us, joy can continue past the holiday season. Even though our seasonal decorations may be packed, that only frees us up to glide into the New Year and find the next wonderful thing.
Once you've finished packing your decorations, you need somewhere to keep them that is out of the way. Here at Total Storage Solutions, we'd be more than happy to take them off your hands. A small storage unit at a storage facility near you can have more than enough space to hold all of your seasonal decorations, and you can even keep off-season clothes and other belongings within your unit to rotate throughout the year.
With an array of high-quality seasonal storage solutions, we pride ourselves in our ability to help you stay organized all throughout the year. Find a Total Storage Solutions location near you with the storage unit size you need for every last one of your seasonal decorations.
Should you have any particular questions or concerns, don't hesitate to reach out. Our contact form will only take you a minute, and one of our professionals will get back to you before you know it!