Eventually, as temperatures sink and the days get shorter, you'll have to say goodbye to lake days on your boat for the offseason. Storing your boat, however, isn't as simple as putting it back on your driveway or in a California self storage facility. In fact, not properly preparing your boat for winter storage could leave you dealing with corrosion, engine damage, and more when warm weather returns.
Don't put your summer days on the water in jeopardy—learn how to properly store your boat for the offseason with this helpful guide from Total Storage Solutions. While winterizing your boat varies based on its type, these tips can help you minimize your chances of damaging your boat during storage.
Take Your Boat for One Last Ride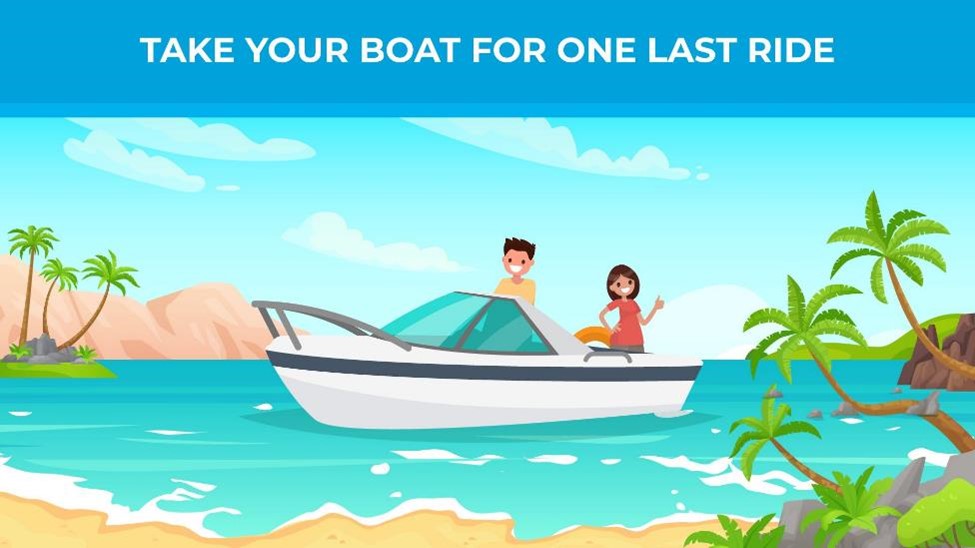 Before you start prepping your boat for winter, be sure to run it one more time. In addition to enjoying some last-minute boat time before the offseason, you will be able to check for any signs of current damage that could worsen next spring.
From cracks in the hull to any engine-related issues, running your boat one more time could save you from repairs and frustration later on. Some common issues to look for before storing your boat for the winter include:
Faulty electrical connections
Worn or cracked engine belts
Corroding anodes
Chipped propeller
Winterize Your Engine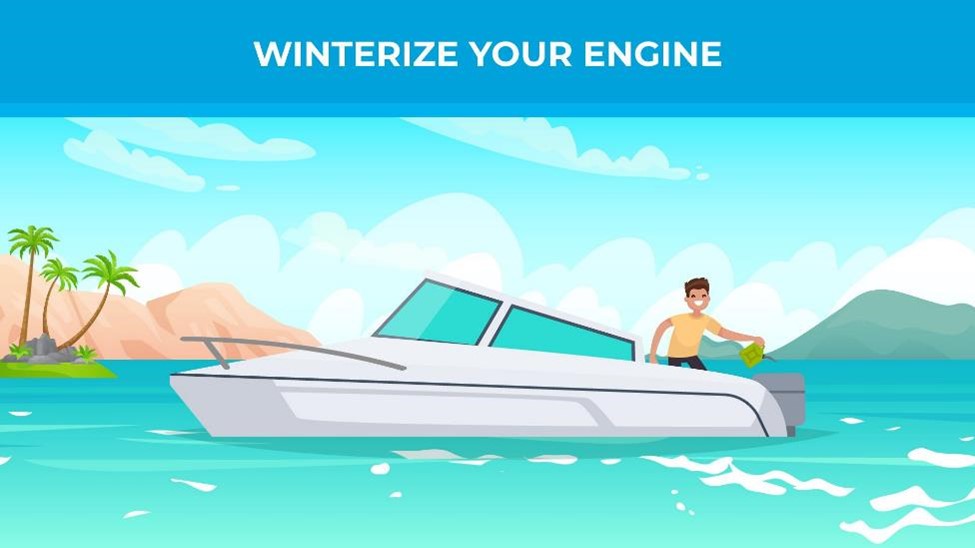 Once you've inspected your boat after its final trip for the season, be sure to thoroughly clean and winterize your engine. Otherwise, you may find yourself stuck aground when warm weather returns. Even if your boat appears to be in good condition after a stretch in storage, that crystal-clean hull could be hiding a variety of engine problems.
From not replacing old oil to letting water sit in the chambers, skipping the step of winterizing your boat could do more damage than leaving it out. Winterizing is important even if the weather doesn't get cold—it's the length of time that the boat is sitting unused that's the killer.
Like any watercraft or motorized vehicle, giving your boat consistent care now could save you from frustrating, expensive repairs later on. Follow these steps for winterizing your engine.
Stabilize Your Fuel
Before you do anything else to winterize your engine, add fuel stabilizer. Without fuel stabilizer, fuel naturally loses its combustibility over time. Treating your tank with fuel stabilizer can also prevent buildup in key parts of your engines, such as your fuel lines, fuel injectors, and carburetor.
If you have a boat with an inboard motor, you should also fill your tank up with gas—this can stop moisture-filled air from getting inside and condensing into problem-causing water.
Change the Oil and Oil Filter
On top of preventing buildup in your fuel, keeping your oil fresh is a must when winterizing your boat's engine. You may be tempted to put off changing your oil until the spring, but that gives it the entire winter to cool down and thicken, making it harder to drain. Plus, old oil could be hiding dirt and other harmful particles that damage your engine.
Apply Antifreeze and Fogging Oil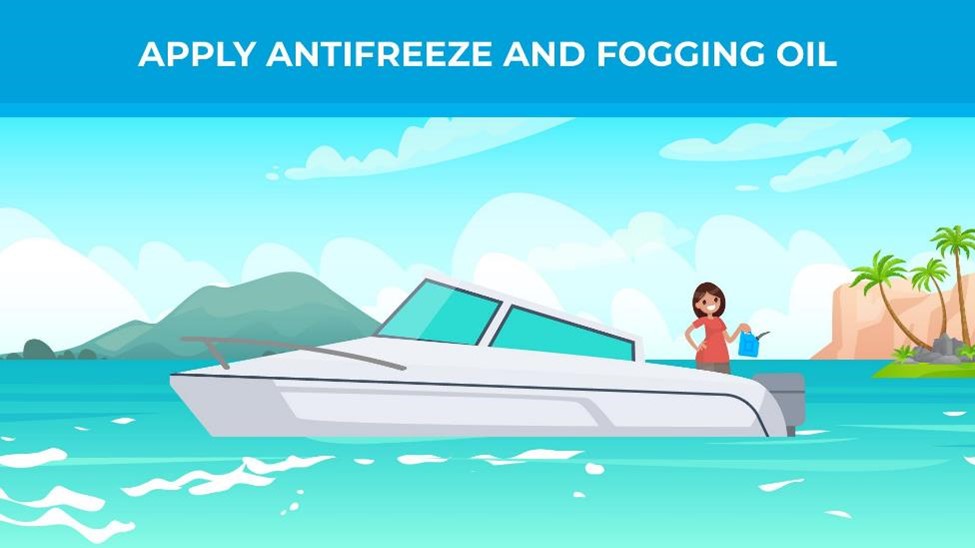 After filling your tank and treating it with fuel stabilizer, the next step in properly winterizing your engine is to apply antifreeze and fogging oil. Like putting gas in your tank, antifreeze stops moisture from seeping into and damaging your boat. Additionally, treating your engine with fogging oil can prevent it from corroding during storage.
Drain Your Engine (Inboard, Sterndrives)
While outboard motors self-drain, you'll have to drain your boat of water yourself if you have an inboard or sterndrive engine. It may be a painstaking process, but it's critical to drain your engine of water. If water sits in your engine's cooling chambers throughout the winter, it could freeze, expand, and leave you with expensive cracks to fix next season.
Don't forget that as an inboard motor with an outboard drive system, your sterndrive engine requires a few more steps to properly winterize.
Other Engine Winterization Tips
In addition to the core steps in preparing your engine for winter, be sure to take care of these other tasks to keep your boat in excellent condition during its stay in storage:
Deep Clean Your Boat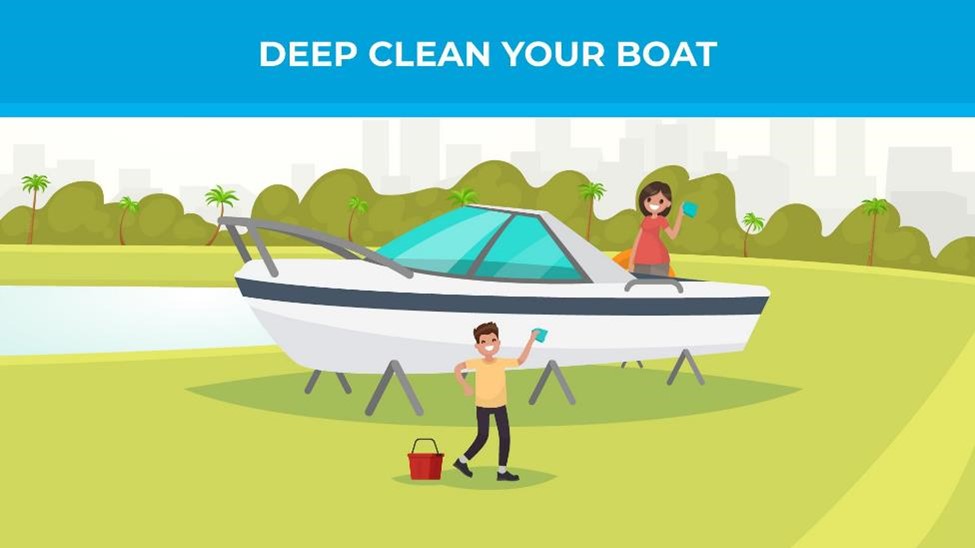 Keeping your motor clean and well-maintained may be important, but that doesn't mean you should ignore the exterior of your boat. Without cleaning the interior of your boat, you could find a moldy, rusted, mess next spring. And in addition to being unsightly, unclean boats could attract pests in search of food and shelter, such as mice, rats, insects, and more.
Clean Your Seats
From sweat and dead skin cells to mildew and pest-attracting food stains, there are plenty of reasons to thoroughly wipe down your boat's vinyl seats before going into storage. You can clean them with warm soapy water and a bristle brush, or specialized vinyl cleaners and cream. With the exception of soap, never use products that aren't designed for cleaning marine vinyl.
Wash Grime Off Your Hull
When your boat's out of the water and dried off for storage, remember to properly clean your hull. Take a soft brush and boat-friendly cleaner to give it a good scrubbing. By washing off grime and scum, you can keep your hull looking its best and prevent stains from developing during its offseason on land.
Scrub the Deck
From lake days to fishing trips, your boat's deck takes quite the beating and builds up plenty of dirt. While often time-consuming, scrubbing your deck pays off in the future. The longer it stays covered in grime, the harder it will be to clean in the spring. Use a deck-friendly cleaner and deck brush to gently scrub away any dirt.
Properly Cover Your Boat
Even if your boat is squeaky-clean inside and out, pests may try to turn it into their winter home. Whether mice tear up your upholstery for nesting or cockroaches scuttling around your deck, keep pests away from your boat with these tips:
Discourage pests with strong-smelling mothballs and dryer sheets
Wrap your boat as tightly as possible
Remove any and all food waste and trash
Choose the Right Place to Store Your Boat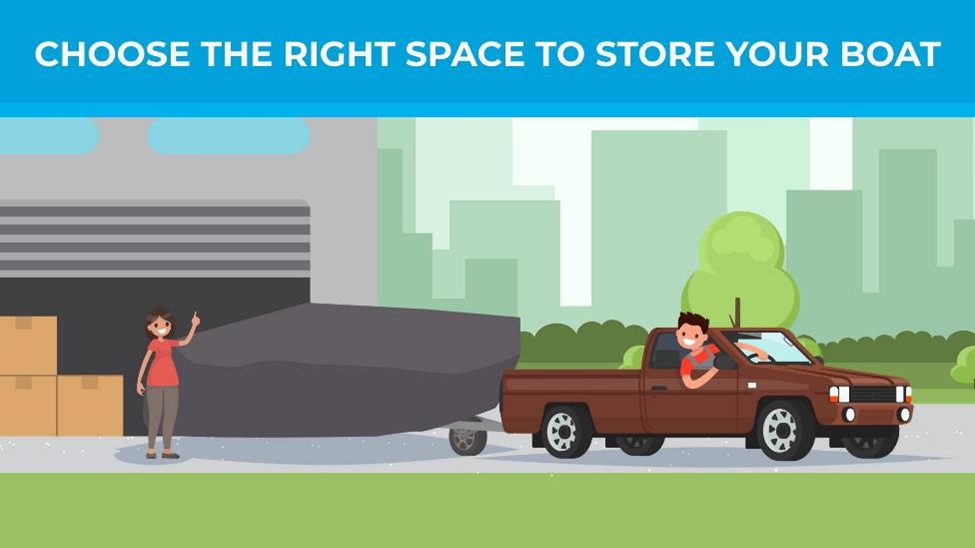 Now that your boat's prepped for the offseason, that last thing to decide is where you'll be storing it. If you've got a fairly large property, you could store it close to home in your driveway, garage, or barn. Many marinas and warehouses also offer storage for boats.
Before choosing a place to store your boat, there are some things to consider. Storing your boat at home may save money, but you'll sacrifice space that you may need for belongings or vehicles that you actively use during the offseason. Alternatively, marinas and warehouses may charge high prices, and you never know who may have access to your boat.
For secure, affordable boat storage that's close to home, consider a boat parking spot at a self storage facility. From on-site management to security measures and quality lighting, self storage facilities offer valuable peace of mind and protection for your boat.
Rent or Reserve Your Total Storage Solutions Boat Storage Today
When you need a trustworthy home away from home for your boat this winter, look no further than Total Storage Solutions. With 33 California storage facilities and additional storage facilities in Arizona, Texas, and Utah, we have convenient boat storage near you.
From our affordable month-to-month leases to our fully-fenced facilities with surveillance, our priority is making your boat storage experience as stress-free as possible. Find a Total Storage Solutions location near you and rent your boat parking spot today!