Finding a place to live, especially with the state of the housing market in recent years, can be a difficult and frustrating process. Few homes are coming on the market, and the ones that are are overpriced. Renting comes with its own share of issues, mostly involving finding the right place at a reasonable price. With the markets going insane and looking like they'll continue, these tips can help you avoid major financial missteps.

Advice for Buyers
Buying a house is a huge decision. When you start investigating the market, it's important to remain calm and not panic at the prices you initially find from listings. Houses are expensive right now, but you do still have an opportunity to find an affordable home. The good news is that once you manage to purchase a house, it will be an appreciating asset that will grow in value over time. If you put in the work to maintain it, you can even improve the value more quickly.
Don't Work Alone
Real Estate Agents understand the housing market better than most others. They have a vested interest in finding you a home and can offer a lot of assistance. If you're willing to work with a real estate agent, finding one you trust is a good way to find a good home even in a seller's market. Whether you hire an agent or not, you should have at least one other person helping you make housing decisions. Buying a home isn't the kind of thing you should risk on a whim. Having someone else you trust, be it a friend, family, or partner, can help you make the best decision.
Improve Your Credit Score
In order to purchase a house, you'll probably need to get a home loan. Home loans depend heavily on the bank and the individuals involved, but one of the primary factors is your credit score. Many places offer ways to improve your credit score, but it's important to note that the companies that compile credit scores won't necessarily make the changes for a month or two.
Act Fast
In the current climate, houses don't stay on the market for very long, and the ones that do are either caught in bidding wars or have something scaring buyers away. When you see a house you like enter the market, don't hesitate to inquire further and schedule a visit. If you're interested, you'll want to get enough information to make an informed decision as soon as you can.
Although it is almost always a bad idea, some buyers like to put in a bid as soon as they see the property. While this will accomplish part of their goal of getting involved quickly, there is also a chance of ending up with a mess on their hands if issues that were unseen during the visit pop up and require more work than initially thought to repair. While it's good to be proactive during the homebuying process, you should still consider your decisions carefully.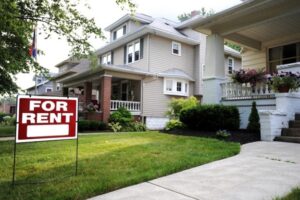 Advice for Renters
Renting a home versus buying one has several trade-offs to consider. In most cases, the upkeep of the home is the responsibility of the landlord, so you won't need to worry about it. However, you also miss out on the investment aspect of home ownership. If you decide to rent instead of buy, there will still be some of the same challenges as with buying.
Keep an eye out for places in your area through websites like Zillow or Rentals.com. You can also find real estate agents that specialize in helping people find rentals. If you're willing to work with your landlord on the lease, that will help make you a more appealing rental prospect.

Advice for New Roommates
One of the best ways to cut down on costs is moving in with a roommate or two, as this splits up the payments for rent, utilities, and more. Moving in with new people can be either a frightening or exciting experience. If you take the time to think things through, you should be able to prevent the worst-case scenario. If you're thinking about living with someone new, take some time to learn about them and interact with them in person before committing. You want to make sure you won't step on each other's toes. It's also a good idea to discuss boundaries and responsibilities before you sign your lease. In general, if you're both respectful and careful with each other, living with a roommate can be a rewarding experience.
You'll also want to have a conversation with your roommates about who is bringing which items to your new place, including furniture, appliances, cooking utensils, and more. Duplicates of these things can take up a lot of space, which always comes at a premium when sharing a home with other people. If you need a flexible, temporary space to store these items until you need them once again, a storage unit can be a huge help when in a pinch.
Get Help With Your Move With Total Storage Solutions
Moving can be stressful — and we want to help! If you need space to keep your belongings before or during your move-in, or simply don't have enough closet space for all of your belongings, Total Storage Solutions can help. Our network of storage facilities is a convenient and affordable place where you can find the additional space you need. Find a Total Storage Solutions facility near you to prepare for your next big move.