After only a few months of winter, residents in Merced, CA can't wait for spring to arrive. The blooms sending joyful fragrances into the air fill everyone's dreams each night as they await March 20, the first day of spring. Although it's still weeks away, you can bring a taste of spring into your home by celebrating Floral Design Day. Whether it's buying a colorful bouquet or drawing floral designs, you can get a jump on the coming spring and have fun in the process. Total Storage Solutions has some ideas for you!
Celebrating Floral Design Day in Merced CA
Floral Design Day always takes place on February 28, which is usually the last day of the month. Unfortunately, this year is considered a leap year, so one more day gets tacked onto February. Though it extends winter an extra day, you can forget those wintry blues by participating in Floral Design Day activities with friends and family.
Some people celebrate this day by creating artistic flower arrangements and decorating their homes. Others head outdoors and take pictures of early spring blooms throughout their neighborhoods. Total Storage Solutions has even more ideas for those who want to enjoy this annual celebration and make the most of a wintry day.
Head south into Fresno, and visit the Arboretum at Fresno State University. It has a walking trail, numerous trees and shrubs and plenty of space to enjoy a relaxing day outdoors.
Visit your local florist, and pick out colorful flowers to bring home. You can create an interesting floral design with live or dried flowers and put them on display.
Get your kids involved in the fun. Take out the crayons and some construction paper, and let your children draw pictures of flowers and nature. They can also give the designs to other family members as gifts.
If you really have a flair for creating floral designs, you could always start a small studio in your home. Local hobby shops carry many different artificial flowers, vases and other accessories for creating beautiful arrangements. If you don't have room at home for a floral studio, you can always move into one of Total Storage Solutions' self storage units. People use self storage units every day for creating offices, music studios and more.
Have a Happy Floral Design Day
It doesn't take much to turn a wintry day into spring. With some planning, a few flowers and tips from Total Storage Solutions, you can bring a little spring into your home even before it's due.
You Also Might Like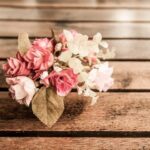 Floral Design Day in Merced, CA