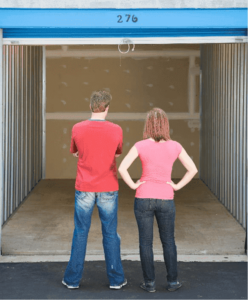 When you commit to renting a self storage unit, there is more to packing it than just loading up your stuff and throwing it in. Using the storage space effectively is key to making sure you get the most out of your investment.
Follow these packing and organization tips when moving your belongings to a self storage unit:
Planning to Store
Prepare belongings for the big move from home to storage unit by making sure you have the necessary moving supplies. Boxes, packing peanuts, bubble wrap and tape are just a few items that you might find helpful. Pack smaller, related items in boxes and label the contents of the box. Box items by room or type for easy organization when you pack your unit. When you fill up your moving truck, pack the items you need the most frequent access to first; pack bulky or infrequently used items last. This way when you unpack your moving truck, you can unpack the bulky, infrequently used items first so they are located in the back of the storage unit. More on this storage tip later!
Choosing an Appropriate Unit
First, determine what you plan to store so you know how much space you'll need. You may not need as much space as you think, since you can utilize the vertical space in the unit as well. Keep in mind, however, that items like mattresses and sofas cannot be stored standing up on their ends. It'll cause damage while they're in storage. Knowing how an item has to be stored will help you figure out how much space you need. Also, determine if you need to look for a climate controlled unit which protects temperature-sensitive items from damage.
Organizing Your Belongings for Easy Access
Fill your unit from back to front, placing larger items in the back and along the walls.
Make sure to keep items you need regular access to at the front.
Leave paths between items or boxes so you can easily reach items in the back.
Draw up a diagram describing where you have stored everything. Keep one in the unit and one at home, so when you need a certain item you know right where it is.
Disassemble any furniture that can be taken apart, and group their parts together so it doesn't get lost.
Drawers can be used to store smaller items, or even breakables.
Try not to make any stacks of boxes over shoulder height, and remember to stack from heaviest to lightest.
These simple storage organization tips can help you make the most of your rented space. For more help on finding a storage unit to fit your needs, try Total Storage Solutions storage calculator or contact a location near you to talk to a helpful staff member. We'll help you find the perfect fit in storage unit!