It's that time of year again. While it might not be snowing where you live, the mountains that host America's favorite ski resorts are rapidly accruing more and more powder as the ski season gets underway. Finally, you can take your gear out of ski storage and dream about where you'll go this year.
Whether you're a new skier, a new ski owner, or just looking to expand your knowledge, it's important to hit the slopes this year with equipment in top-notch shape to maximize fun and minimize the risk of injury. These tips will help you learn how to get your skis prepped for the winter and ready for the mountain.
How to Wax Skis at Home
Unless your skis have structural damage, the most important thing you can do to your skis is to wax them. It's a relatively simple process that you can do yourself. There are three main steps to waxing your skis, including:
Cleaning Your Skis
Waxing Your Skis
Scraping and Brushing Your Skis
Waxing your skis is important because it helps lower friction and allows your skis to glide as efficiently as possible. You'll need the following materials to do so:
Towels
Rubbing Alcohol
Wax
Waxing Iron
Brushes
Ski Vise (Or Substitute)
You can purchase these materials online, at a national outdoor outlet like Dick's Sporting Goods, REI, or your local ski tuning shop if you have one.
Cleaning Your Skis
The first step in waxing your skis is cleaning them. After taking them out of whatever you're using for ski storage, place each ski bottom-up on a ski vise on a workbench. If you don't have a ski vise, a substitute like boxes, books, or the like will work well in a pinch. Use rubbing alcohol and a towel to thoroughly clean the base of your ski from tip to tail. If it's dirty, the wax won't be able to properly work its way into the base.
Waxing Your Skis
For most ski resort visitors, a general-purpose, all-temperature ski wax will work well. First, check your wax to see its optimal melting temperature and set your waxing iron accordingly (it's important to use a specific waxing iron because normal clothing irons are usually too hot and might damage your ski). Then, heat up some wax and drip it along the length of the ski. Just remember: if it's smoking, it's too hot.
Then, move your iron from tip to tail. You'll want to go slowly enough to let the wax penetrate the pores of the ski base, but quickly enough to avoid burning or damaging the ski itself. Make a few passes with the iron, and then let it cool to room temperature. Once it's cool to the touch, you're clear to go to the next step.
Scraping and Brushing Your Skis
Wax best works when it seeps into the pores of the ski base, reducing the coefficient of friction of the ski itself (in layman's terms: wax makes it slicker). However, if there's too much wax, it loses that benefit.
As a result, the final step of waxing your ski is scraping and brushing. Scrape off excess wax first with your scraper, making sure to also hit the sides of the ski, as well. Once you aren't getting any more shavings, move on to brushing. Brush until you don't see any more wax dust.
Professional Ski Tuning and Ski Equipment Rental
If you want to own skis but aren't interested in waxing them, another option is to have your skis professionally tuned, either at a ski resort or in your own city if you have a ski shop equipped to do so.
Even if you're comfortable with waxing your own skis, using a professional ski tune shop may be your best choice if you have ski damage or dulled, chipped edges. These shops have seen skis (and snowboards) of all kinds, and they have specialized tools that give them a level of accuracy that is difficult to achieve on your own.
Ski equipment rental is also an option if you don't want to maintain your own equipment or if you want to try something new. At ski rental shops, you'll be able to rent skis, poles, helmets, and sometimes even goggles and outerwear.
Ski Storage Ideas
If you're an owner of your own pair of skis, you'll need a place to put them—especially if you have more than one set. You'll need to ensure that they're in a place where they won't get damaged by the elements. A garage or basement makes a good spot.
Some resorts also feature seasonal storage lockers. If you frequent one resort, you can take advantage of this by leaving your gear there and picking it up when you're ready to hit the slopes.
Of course, self storage is another ideal storage space for skis. Whether you're storing brand new skis or old favorites, climate controlled storage units will keep your skis ready for your next trip to the mountain. Total Storage Solutions has dozens of locations across four states. Reserve a unit today to get our best deals on units both large and small.
You Also Might Like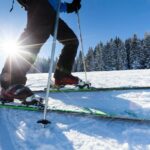 How to Prepare Your Skis for the Winter