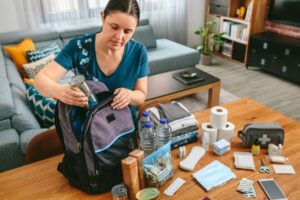 Whether it's a hurricane, wildfire, or tornado affecting your community, it's important to always be prepared for a natural disaster. These events can be unpredictable and strike fast, leaving you with little time to wrangle up your supplies before heading to safety. Having a natural disaster emergency kit, loaded with food, hygiene, and survival gear, can help keep you and your family safe and secure when the need arises. Learn more about how to prepare yourself for disaster with the following tips. 
What Is a Natural Disaster?
A natural disaster is a severe weather-related event that poses a safety threat to a person, their home, and their community. For example, a natural disaster in California may be an earthquake or a wildfire that threatens the stability of people's homes and businesses. While sometimes a phenomenon that can be tracked and planned for, many times natural disasters are something that can pop up and spread rapidly, putting you and your loved ones in danger. Because of this, it's always best to be prepared.
What Is a Go Bag?
A "go bag" or "bug-out bag" is a compact emergency bag you can easily grab as you head to shelter during a natural disaster. Natural disasters can happen suddenly, so it's a key component of emergency preparedness to prepare and pack this bag ahead of a natural disaster so it's ready when you need it. 
What Items Should Be in My Go Bag?
To start, get yourself a water-resistant bag that can hold up in all types of weather conditions. Keeping this bag safe from the elements is a key component of natural disaster preparedness. 
Keep in mind that during a natural disaster, there may not be reliable cell service or electricity. Keep those potential scenarios in mind when filling your Go Bag with supplies.
The Go Bag should contain enough supplies for 72 hours. If there are multiple members of your family, it could be beneficial to prepare a few "mini Go Bags" that contain personalized items each individual person would need. 
The Most Important Supplies To Include in the Go Bag:
Battery-powered lantern or flashlight

Copies of personal documents (stored in a waterproof bag)

Dehydrated food

Duct tape

Electricity-free phone charger

Emergency blankets

Extra set of house and car keys

First aid kit

Freezer bags 

Matches

Necessary medications

Tarp

Toothpaste or mouth rinse

Water bladder

Water purifier

Wipes
Additional items that could be beneficial:
Backpacking tent

Bottles/formula

Compact cooker

Diapers

Hand sanitizer

Insect repellent

Pet food

Reusable utensils

Sleeping bag

Substantial Natural Disaster Emergency Kits
A Go Bag is a great way to plan for an emergency, but it can only hold supplies that provide food and shelter for a short time. That's why it's also a good idea to store anywhere from three days to four weeks' worth of supplies in a cool, dark, dry place, like a basement, closet, or storage unit. After a natural disaster, supply chains, roads, and stores may be jam-packed, so having these emergency supplies keeps you from having to deal with the stress of trying to track down essential items you need during these times. 
Thinking about stocking up a month's worth of supplies may sound daunting, but preparing a natural disaster emergency kit doesn't have to be overwhelming. Purchase a few extra items whenever you go to the store. If you usually buy one jar of peanut butter, buy two and continuously add to your stockpile. There's no need to do a giant shopping trip to fill up your emergency storage space all at once.
Additionally, pick items you know you and your family would want to eat. Beans are a great emergency food staple, but if no one in your family likes to eat them, they're not a worthwhile supply to stock up on. 
How To Organize Your Natural Disaster Emergency Kit
Be sure to organize your items in a way that is easy to navigate. Store similar items together in plastic bins, and use a color coding or clear labeling system. Be sure to check expiration dates and put the nearest dates toward the front so they are used first.
Make sure to keep the area clean to avoid pests. Mylar bags, airtight bins, and plastic buckets can be a great way to deter pests. They can also keep sunlight and moisture from penetrating perishable items. 
Use the storage space well by placing shelves around the room and keeping the floor clear of items.
What items should be in my natural disaster emergency kit?
Bottled water

Rice

Beans

Copies of personal documents (stored in a waterproof bag)

Batteries

Lantern/flashlight

Battery-powered phone charger

Buckets

Sleeping bags

Pasta and sauce

Macaroni and cheese 

Powdered milk

Peanut butter

Nuts

Salt

Canned veggies 

Canned meat

Can opener

Scissors

Camping stove with propane

Toilet paper

Junk food for comfort

Activities/books for kids

Pet food

Cleaning supplies

Pen and paper
Where should I store my natural disaster kit?
It's a good idea to store emergency supplies in a cool, dark, dry place, like a basement, closet, or storage unit. A storage unit can be a great place to store your emergency items as these rooms are often windowless, dark, and remain dry year-round. If you don't have a lot of extra storage space in your home, using a storage facility can be beneficial so you don't have to give up a much-needed closet to stock these emergency supplies. A self-storage unit can be an excellent place to keep these belongings outside your home and ensure your natural disaster emergency kit is safe. 
With locations across Arizona, Texas, California, and Utah, Total Storage Solutions has units of all sizes and premium features designed to give you the best storage experience around. Contact us and let our experts help you secure a home for your important belongings today!