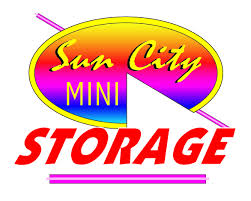 Welcome to
Sun City Mini Storage
27460 McCall Boulevard, Sun City, CA 92585 MAP IT 4.5 out of 5
Facility Features
Fully Fenced Facility
Surveillance Video Recording
Well Lit Facility
Deliveries Accepted
Dollies and Carts Available
Manager On Site
Drive Up Units
No Deposit Required
Tenant Protection Available
Month-to-Month Leases
Pay Online
Need help choosing? Try our
{{ category | capitalize }} Units
{{ unit._se_size_category.category | capitalize }} Unit
{{ unit._se_width + "'x" + unit._se_length + "'" }}
{{ unit._se_unit_type_name }}
Has Alarm
Located Inside
Located Outside
{{ unit._se_promotion_name }}
Starting at ${{ unit._tss_strikethrough_rate | usd }} ${{ unit._tss_display_rate | usd }} ${{ unit._tss_display_rate | usd }}
{{ unit._se_promotion_name }}
Hours
Office HoursOpen Now
Monday - Sunday

9:00 am to 5:00 pm
Access HoursOpen Now
Monday - Sunday

7:00 am to 7:00 pm
Sun City Mini Storage of Menifee, CA
Self Storage Units in Sun City, CA
As a haven for seniors who want to downsize from larger homes and move into a master-planned community, Sun City is a quiet neighborhood in Menifee, CA. With its wonderful public golf course, recreation centers, and commercial center, this Riverside County enclave is an excellent spot to call home.
If you're new to the area or just need some additional space in your home or business, Sun City Mini Storage offers affordable, convenient spots to stow your belongings. Our facility is located just blocks from Avenida Park and minutes from Interstate 215. Find us right on McCall Boulevard, across from Hans Christensen Middle School on Sherman Road.
Even if you don't live in Sun City proper, you'll still find storage solutions for the following nearby neighborhoods:
Romoland
Menifee Lakes
Casa Blanca Villas
Valley View Apartments
Sun City Mobile Home Estates
Sun City, CA, Storage Features at Sun City Mini Storage
From the planning and packing stages to actually moving your items into storage, Sun City Mini Storage offers excellent storage features and amenities to help smooth things out. Purchase all the  moving and packing supplies you need, and rent a truck to help load your items up for storage. Most of our units are available with drive-up access to make for easy unloading. Other essential features include:
Month-to-month rentals
Electronic gate access
On-site management
Drive-Up Storage in Sun City, CA
Drive-up storage offers one of the most convenient methods for storing your belongings. Simply load your vehicle, drive to the facility, and unload directly into your storage space. There's no hallway or stairs to worry about.
RV and Boat Storage in Sun City, CA
Nestled among the mountains of California, Sun City and Riverside County are within short driving distance of several national parks and campgrounds. That makes owning an RV or boat in the area an attractive option. But many cities and HOAs don't allow permanent parking on streets or in driveways. For this reason, finding offsite storage is essential for owners. Sun City Mini Storage offers outdoor RV and boat storage for your convenience.
Rent Your Sun City Storage Unit Today
Taking advantage of convenient storage units to declutter your home or business is a great way to free up room for new hobbies, employees, or equipment. Sun City Mini Storage makes finding a storage unit simple, whether you need a small unit for a few items or a large one for your whole home. Drop by our McCall Road facility and let our friendly team answer your storage questions. You can also use our size guide and find your storage unit online.
Frequently Asked Questions About Storage in Sun City, CA
When can I access my storage unit at Sun City Mini Storage?
Our facility is open for access between the hours of 7:00 am and 7:00 pm every day. Office hours are from 9:00 am to 5:00 pm.
Do I need to sign a long-term lease to rent a storage unit?
No! All storage rentals are month-to-month, which gives you the flexibility to rent for short- or long-term needs.
How do I pay for my storage unit?
Most of our customers choose to pay online. It's flexible and helps ensure you can check paying for storage off your list without worrying.
Can I buy boxes or other moving supplies at Sun City Mini Storage?
We do sell moving supplies, including boxes and tape, at our location.
Read Recent Reviews
Very courteous and knowledgeable. Great experience!

eagleseesyou

Just rented a truck to move some furniture. Nice place Employee's were helpful.😊

Laurie Parks

Great experience. Very friendly and helpful. Thanks

Joanne Lopez

Ryan at Sun City Mini Storage helped me checking in a Penske truck and getting a storage unit. When I left town again Ryan helped me out getting a truck in the most professional and kind way possible. He goes out of his way to accommodate his customers providing some of the best customer service I have seen. It was a pleasure meeting him and doing business. Thank you.

Joep Mols

This place is awesome!! Ryan was very informative both when I called and when I arrived. The facility was clean and presentable as was the unit I rented. The transaction went quick and smoothly. Ryan was very professional, courteous and answered all my questions. This is definitely my go to place when i need to storage in the future. Thanks for a great experience Ryan!!

Martie B

This place is awesome!! Ryan was very informative both when I called and when I arrived. The facility was clean and presentable as was the unit I rented. The transaction went quick and smoothly. Ryan was very professional, courteous and answered all my questions. This is definitely my go to place when i need to storage in the future. Thanks for a great experience Ryan!!

Freedom Reigns

Very informative.... Lowest price around .

Jeremy Stevens

These guys are Awesome, I've been with them a little over 5 years now, the staff is friendly, knowledgeable and straight forward. I work out of town and often forget to pay on time, no sweat, just give them a call and let them know whats going on and they'll help you out. Aaron can answer any questions and makes you feel right at home. "Superb Storage Facility, Look No Further"

Levi Lopes

Renting a space from Sun City Mini Storage was convenient and easy. The staff was knowledgeable and super friendly. The whole process took less than half an hour. We are very happy with our decision to rent here

Melynda Hardaway

Renting the unit was quick and easy. Staff was very friendly. Only downside are the access hours. 7-7 &, not only is the office closed on major holidays, there's no unit access. 😒

Patricia Diaz

Very knowledgeable. Very friendly. answered all questions.

Lvn Retired
Very nice helped me through the whole thing as I have a brain injury with memory loss and I forgot my glasses super patient thank you☺️

Kym Torres

On site manager was courteous, professional. Clean facility

Michael K

We have our trailer here its a great place.

A H

I had a problem today with my storage I went to the office to let them know and they helped me right away. Excellent service!

Luciano Gonzalez

I rented a U-Haul truck for our move across town and not only was the pricing affordable and the truck available with only a few days notice, but the manager, Ryan, was incredibly helpful. Good customer service goes a long way in my book and I will 100% be renting a truck from here again when it\'s needed.

Sarah Merten

Clean and seemingly well secured storage facility.

Kevin Lewis

Jessica Kinsman-cussen

Diana Morgan

Great spot

Cara Anne

Rented a storage unit, bought boxes and packing supplies and ultimately ended up renting a truck. Had nothing but great experiences with every employee we...

From Yelp