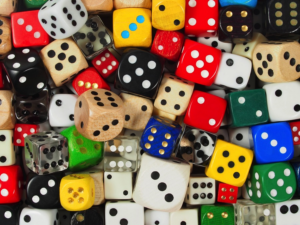 In 1990, Donald Dettloff of Haiku, Maui, Hawaii started the creation of the surfboard fence that made his yard famous. Now, he has more than 600 different surfboards lining his yard. While this collection might seem kooky to some, there are far more interesting – possibly disgusting – collections in the world. Total Storage Solutions has created a list of the world's weirdest collections, from Hawaii to Germany. If you have a weird collection that's threatening to take over your home – or scaring away houseguests – invest in a Kailua Kona, HI storage unit to keep it safe.
Flamingo-Related Items
There are 619 flamingo-related items that grace the Path Shelter Store in Lecanto, Florida. Sherry Knight, the store manager, originally put the items on display in the hopes of attracting customers. That plan may have worked, and with it, an influx of flamingo-related items from customers returning from travel.
Dice
Kevin Cook started his dice collection in 1977 when he first played Dungeons and Dragons, which requires at least one set of dice. While he may have gotten his first set in 1977, he didn't truly get a taste for collecting until 1981 when he found an old shoe box full of dice in a pawn shop. Now, his collection has grown to 11,097 dice.
Back Scratchers
Got an itch? Dermatologist Manfred S. Rothstein can scratch it! Just choose from one of his 675 back scratchers from 71 countries. No appointment necessary. Well, we can't be certain of that last part. He does, however, keep these back scratchers in his clinic in Fayetteville, North Carolina. It's not the weirdest collection on our list, but with a name like Manfred, normalcy wasn't really an option.
Napkins
I doubt Martina Schellenberg would let you wipe your hands on these napkins. At more than 125,000 different napkins, she definitely has some to spare, but this world record holder probably wouldn't take kindly to anyone who dirties up her collection. Located in Schwieberdingen, Germany, this collection is cataloged by theme and stored in separate containers.
Joker Cards
Tony De Santis inherited a 2,000 piece collection from friend and mentor, Fernando Riccardi, with the promise of continuing the collection. Now, Tony has amassed more than 8,500 different Joker cards. Each card has a different Joker image and comes in many different forms, from square to circle to fish. Tony looks at each card every week for a few seconds to memorize the Joker images. That's what we call dedication.
Traffic Cones
Hopefully, this collection didn't cause any traffic accidents! Since the collector works at the world's largest producer of the cones, it's unlikely that he collected them from actually roads. David Morgan of Oxfordshire, England has been collecting traffic cones since 1986 and earned the world record at 137 different traffic cones. Rumor has it, the collection has grown to more than 500 since then.
Airline Barf Bags
We hope that none of these bags are even "gently" used. Collector Niek Vermeulen first had the idea to collect airline sickbags when he was using one on a trip. But he wasn't using it in the usual way, he was scribbling down his trip expenses. He started his collection in the 1970s, and as of February 2012, his collection has grown to more than 6,000 airline barf bags from almost 200 countries.
And we saved the best – or worst – for last!
Toenail Clippings
While this isn't a personal collection, the "ick" factor is still relevant with this collection. Compiled by Atlantic PATH of Canada for a scientific study, the largest collection of toenail clippings set a world record in 2013: and they're still looking for more. There are currently toenail clippings from more than 30,000 individuals, which are being used to investigate diseases like cancer. We're all for a good cause, but this still makes us cringe.
Belly Button Fluff
This lint isn't literally hard, but it is stiff competition in the battle for weirdest – or grossest – collection. Librarian Graham Barker found his passion for collecting belly button lint in 1984 when he was 19. Now, he makes sure to remove it before every shower. After years of dedication, he's filled 3 jars, weighing in at 22.1 grams (about three-quarters of an ounce). Barker has held the world record since 2000, probably because no one else wants to compete.
There are many more weird collections in the world. If these haven't satisfied your need for weird collection knowledge, just check out the Guinness World Records site. Inspired to start your own collection or take on one of these record holders? Find a nearby storage unit to keep your collection from taking over your home, and get ready to commit to your favorite collection.